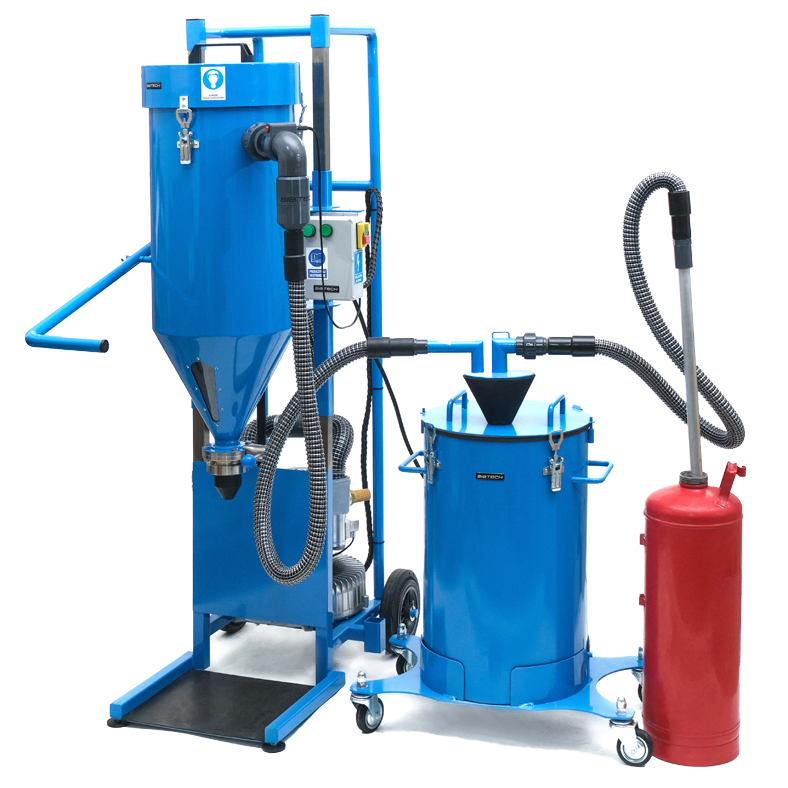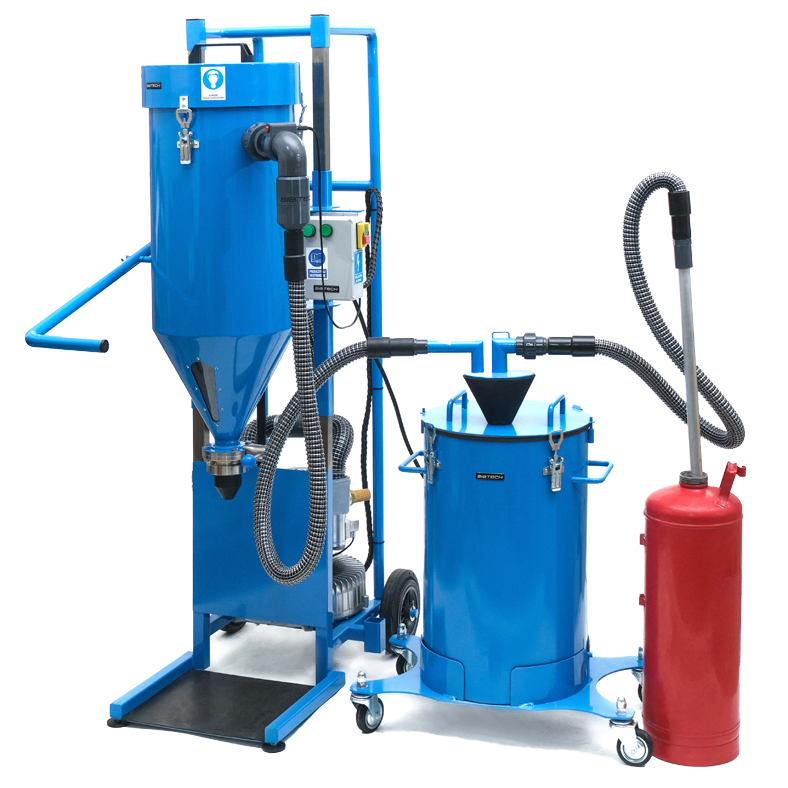 Fire extinguisher service equipment >>>
Powder hopper MP-1W
Use of the powder transfer machine:
filling extinguishers with fire extinguishing powder,
emptying fire extinguishers of extinguishing powder,
fluffing and filtering (from impurities such as powder lumps, rust, etc.) of the powder to be sieved.
The fire extinguishers for which the transfer machine is designed:
powder extinguishers with a capacity of 1 kg to 12 kg.
Characteristics of the powder transfer machine:
has a wide range of applications, including in extinguisher maintenance shops and workshops,
simple and intuitive to use,
Thanks to the container, which holds 25 kg of extinguishing powder, it is possible to fill (without additional accessories) extinguishers with a capacity of 1 kg to 12 kg,
has a control panel with an on/off switch, thrust reversal button and indicator light,
Variable draught direction to aid filling of extinguishers and cleaning of filters,
The lifting of the filter container is assisted by a shock absorber,
has a sight tank with filters,
support for assessing the quality of the aspirated powder by means of an LED analyser,
retention of contaminants on special mesh filters,
there is the possibility of connecting an attachment for charging powder units,
The machine is mobile, equipped with transport wheels and has adjustable feet at the front,
rubber-coated work surface,
has an anti-return valve in the tank.
Equipment included in the powder transfer machine:
electric motor,
fan,
powder hopper,
height adjustment handle,
suction pipe,
Power cable,
control panel with master switch,
thrust reversal button,
powder analyser with LED backlight,
interchangeable sieves - 2 pcs,
warranty card,
declaration of conformity,
technical and operational documentation.