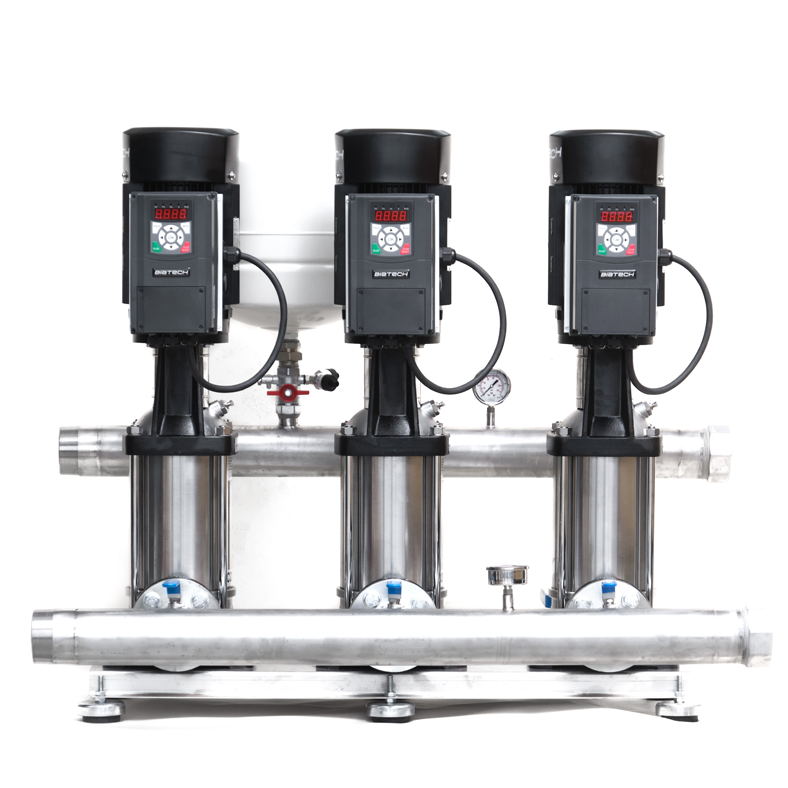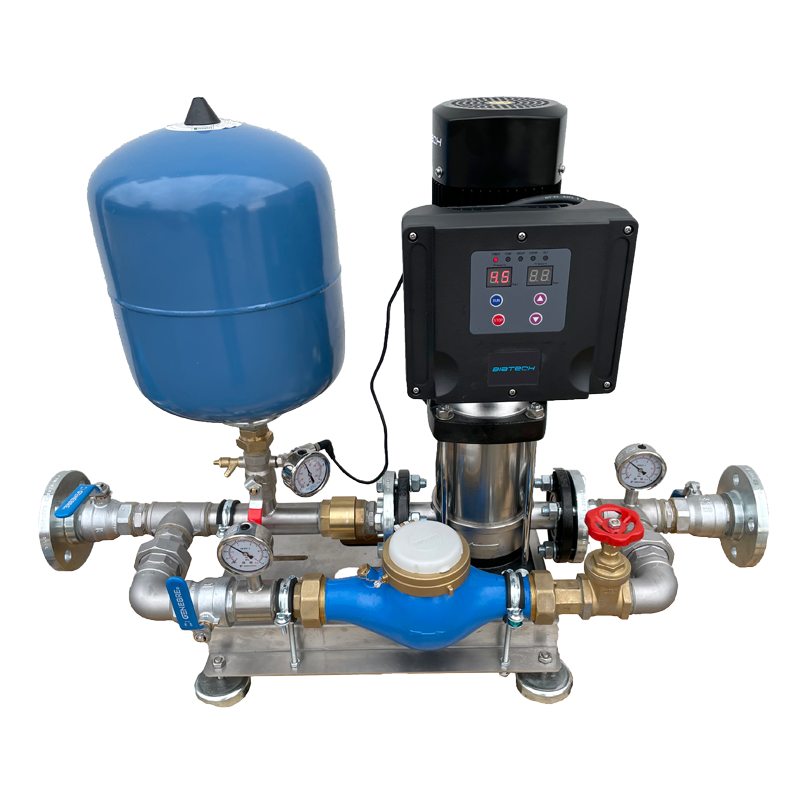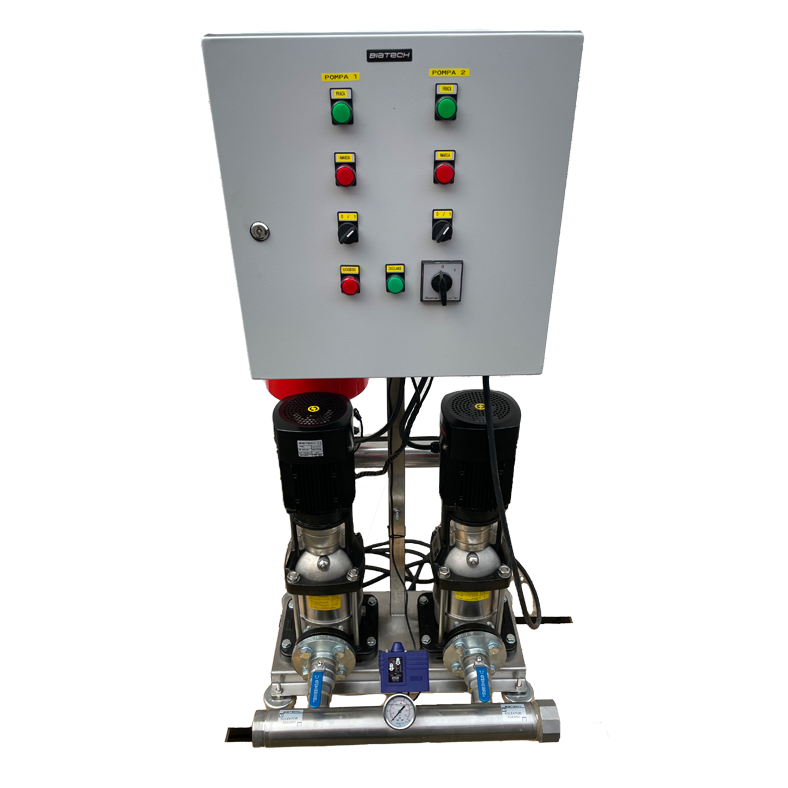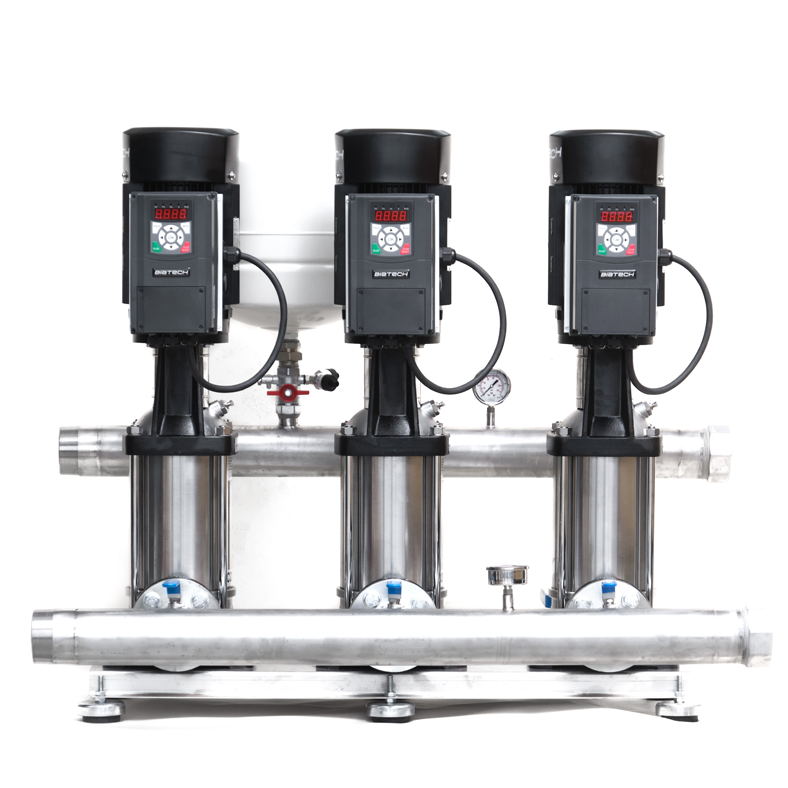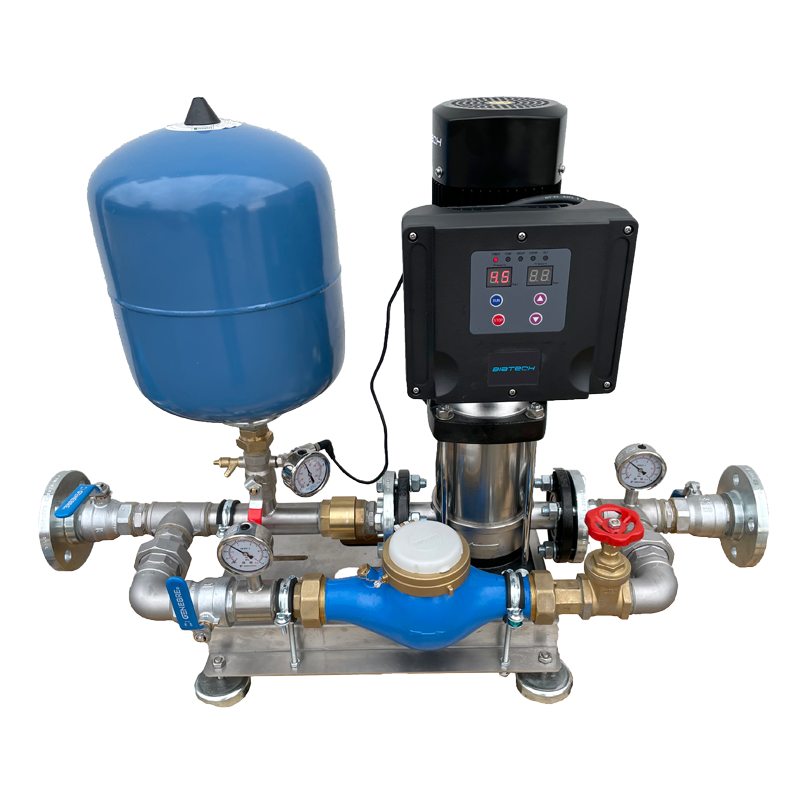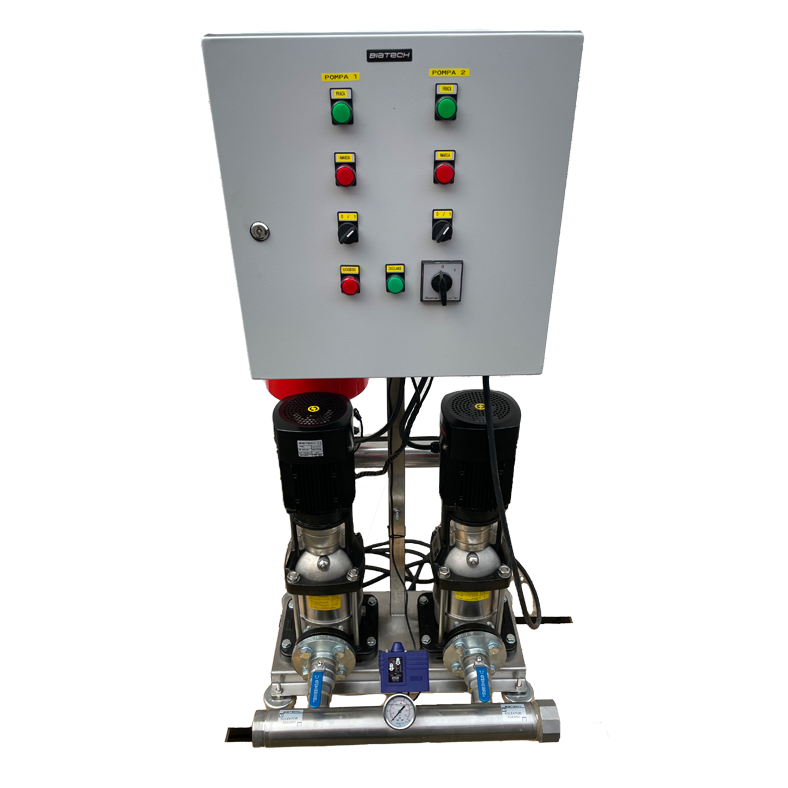 Pump sets, hydrophore sets
Pump sets, hydrophore sets by BIATECH are based on top quality Hydroo pumps. They are designed for increasing pressure or pumping water. Power supply of such systems may be executed both from water reservoirs and water supply systems.
Our solutions are based on vertical pumps (V) for water supply and inflow to the pump and on horizontal pumps (H) for water suction. Applications of BIATECH pump sets:
fire-fighting/hydrant systems;
internal and external water supply networks;
industrial installations;
irrigation and sprinkler systems.
Pump sets are equipped as standard with:
Pumps;
Pump base;
Intake and discharge manifold;
Shut-off valves;
Check valves;
Control with full electrical protection
Additional information
All water pressure booster systems are equipped with appropriately selected non-return, shut-off, safety and operational information fittings. In addition, the pump control is completely maintenance-free and safe. We apply two solutions of work control, taking into account the purpose of the installation, control with the use of an inverter or threshold and time control based on the work of a pressure switch connected to the control cabinet. Depending on the electrical installation, pumping sets may operate using single-phase (1F) or three-phase (3F) power source.
Our devices are used in new as well as in existing installations. The water pressure booster sets we offer are selected and prepared in such a way as to minimise the assembly effort and interference in the existing facility.
Products offered by BIATECH are manufactured with great care and finished devices are tested under high pressure. So that the Client receives a product ready to work and safe. The whole, characterised by low price and high quality, is a facility willingly chosen by Installers and Investors.
For pump sets we additionally offer:
Test bypass - for the test activation of pumps in installations where continuous water intake is not foreseen;
back-up bypass;
the jockey pump - a booster pump that maintains the water pressure in the system for the main pump;
standby pumps - augment the set with a standby pump of the same type;
pumps from outside the range - on request we will use the pumps specified by the customer;
Control cabinets
Control cabinets, specially adapted to control and protect work and entire systems. Ideally suited for controlling pumps in fire-fighting and hydrant systems. Their operation is based on cooperation with pressure controllers set at preset pressure values. Cabinets offer the possibility of manual as well as automatic control of pumps. Additionally, they can control water tank filling systems through filling sensors and solenoid valves. Casing made of high quality steel protects the control system from damage and affects the aesthetics of the room.
Product features
automatic switching on and off of motors;
alternating the operation of the pumps to ensure even wear;
manual switching on and off of pumps for control and maintenance purposes;
automatic changeover of pumps in the event of failure of one of the pumps;
automatic opening and closing of the solenoid valve supplying the water tank;
control of single and multi-pump systems;
fire and residual current protection;
overload protection;
short circuit protection;
dry-running protection;
operation signalling;
fault signalling;
visual and acoustic signalling of emergency conditions;
GSM communication;
communication with SAP, SSP control panel protocols
Cabinets with HMI panel.